The smart speaker wave has finally hit the Australian shore. Australians are slowly taking the lead in consumer-ship of smart speakers as per research. As per Smart Speaker Consumer Adoption Report – Australia 2019, smart speaker adoption has hit 29% in the adult population as compared to 26% in the U.S. at the close of 2018. The growing number of users of smart speakers is indicative of the future of home automation in Australia.
Smart speakers amongst other smart home products are gaining a lot of popularity. These devices that are internet- and voice-enabled, are taking over the home automation systems market world over. These speakers have in-built AI and machine learning technologies and are packed with IoT technologies that allow them to talk to other smart devices and control them. They "learn" as they are used and get better with time.
With so many smart speakers out in the market today, it's tough to decide which one is the best.
Google Home
Google Home has emerged an all-rounder. Especially in Australia, Google works out to be better owing to its better dataset of the transport system. The integration with Chromecast allows it to use compatible apps for a plethora of actions which renders it a complete package.
Google Home is popular as the smartest artificial intelligence system with impeccable voice recognition. It has managed to get a hold over the Australian market owing to its use of detailed public transport information. It is thus able to answer queries with local reviews while Amazon Echo cannot.
Google Home voice quality and affordable price makes it great value for money. Most homes in Australia choose Google Home over other devices; very evident from the fact that Google Home has a 68% relative smart speaker market share as against Amazon Echo's 14%1.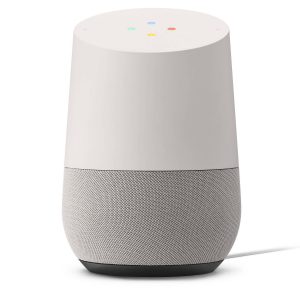 Pros
Its conversational. You can have a natural conversation with the Google Assistant owing to its wider knowledge database. It can understand context and answer day to day queries better than other smart home assistants.
Google's Knowledge Graph is a winner. Google's search engine is the best and this is its biggest advantage over other smart speakers. Millions of information datasets can be accessed by the assistant, increasing the likelihood of you finding the right answer to your questions. Google Home's responses are much finer than other smart home assistants.
It is value for money. Although slightly more expensive than certain Amazon Echo, Google Home is still very affordable for the kinds of features it offers.
C
ons
Actions. The disadvantage with Google Home is that its Actions integration hosts a much smaller range of actions that a user can pick from. It lags behind Skills by Amazon Echo in terms of the number and range of applications offered.  
Smart home integration capability is lesser. Although Google Home offers some amount of smart home control, it could still do with more. It lacks a built-in hub which is why smart home control is poorer with Google Home.
The device is not chargeable. Since Google Home constantly requires to be plugged in, it markedly reduces its portability. It could become a task to find the right spot for the speaker in your home.
Some of the popular Google Home smart speakers out in the market are:
Google Home Mini
Price = AU$79
It is the smallest of the range and can be placed virtually anywhere. Available in three colours: charcoal, chalk and coral, it is connected to Chromecast on any device and offers voice-control over supported devices so you can easily access movies and TV shows. It is integrated with Google Assistant to give you smart home control and answer all your queries.
Google Home
Price = AU$150
This is your regular Google smart speaker that has a voice-activated assistant always on listening mode. It is stylish and also highly functional. The sound quality is decent and is a step-up from the Mini. It offers a wide range of services, knowledge and information and access to Chromecast. It is better styled than the Mini and you can also change the fabric colour.
Google Home Max
Price = AU$549
The Google Home Max is larger in size and delivers high-quality sound. It is pricier than Google Home Mini and Google Home and comes in the premier bracket of smart speakers in the market. It is designed to deliver good sound quality comparable to Sonos One and Apple HomePod. It also is integrated to Google Assistant and offer all the features that Google Home does.
Google Home Hub
Price = AU$230
Credited with Google's first smart display with a 7-inch touchscreen. It is integrated with Google Assistant and allows you to control multiple functions at home, play music, ask questions or watch a quick Youtube video. You can also access all the third-party services. The speaker isn't as great as the other Google Home speakers but the display comes with its own advantages.
Amazon Echo
Echo has made itself very popular in the U.S. owing to its functionalities and affordability. The Aussie Alexa was launched much later than Google Home but is now slowly making its way up in the smart home market. Alexa's third party integration, Skills platform, makes it exceptionally convenient to use. It is one of the oldest smart speakers around and comes in a range of sizes and shapes. It plays music, connects to most appliances and uses third party integration ending up being a better and more personalized hub.
For anything that Alexa can't do, the Skills set makes up.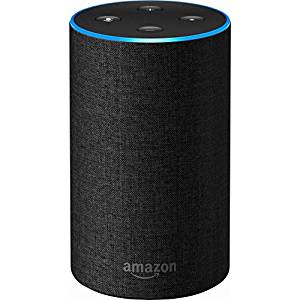 Pros
The speaker quality is amazing. Amazon Echo has excellent 360°- omni-directional audio with good sound quality. It can control volume by simple voice commands. The microphone quality is great with very good sensitivity, so it can hear you from any corner of the room.
Versatility in smart home integration is currently unbeatable. The smart home assistant of Amazon Echo – Alexa can integrate to a high number of smart devices of several different brands. You can control multiple devices at your home using the Alexa app or giving simple voice commands.
The Skills library. The smart home assistance on Amazon Echo has a number of "skills" that are growing by the day, given the popular third-party integration Alexa offers. You can also create your own 'skills' and 'routines' that follow a particular voice command. "Skills" gives Amazon Echo an edge over other smart home assistants today.
Cons
Lesser knowledge of local transport system. Amazon's smart home assistance is less intelligent than its contemporaries. Its local knowledge database is much less enriched than Google Home because of which it is no match to Google's level of providing answers to the queries.
The language is not very natural. There are specific keywords needed to be spoken to put the message across to Alexa. The language isn't always naturally conversational. Also, while Google Home is multilingual, Amazon Echo can only understand and speak English.   
Learn more about Alexa Commands.
Some popular Amazon Echo smart speakers are:
Amazon Echo
Price = AU$149
This quintessential Amazon Echo smart speaker comes with all the benefits Alexa offers. It is affordable and looks chic. The sound quality is very decent but maybe not as good as Echo Plus. Echo offers good smart home control thanks to the wide range of devices Alexa integrates with. It also is wonderful to play music on.
Amazon Echo Dot
Price = AU$79
Designed on the lines of Google Home Mini, Echo Dot is a smaller version of Echo. It offers the same range of voice control as other Echo products. Its sound quality is ok but not as good as Echo or Echo Plus. It connects to devices via bluetooth easily and offers great smart home control due to its integration with Alexa.
Amazon Echo Plus
Price = AU$229
Echo Plus is a premium model amongst other Echo speakers. It has a powerful 360° sound and dynamic bass response. It is packed with features and comes with built-in smart hub with latest technology like Zigbee built into it. Alexa, the Amazon smart home assistant controls most smart devices and can be commanded to operate the lights, switches, smart plugs and lot more. It can answer your questions, give you weather updates, sports score and play great music, just the same.
Amazon Echo Spot
Price = AU$199
Amazon's all new entry in the Echo range of products is the Echo Spot which is the only speaker in this range with a display. It has a camera and a 2.5-inch touchscreen. Although, audio quality is not as good as other speakers, Echo Spot allows you to make video calls, watch youtube videos, checkout some quick recipe and watch your favorite Amazon Prime shows.
Apple Homepod
Price = AU$469
Apple Homepod uses some seriously good technology to match up with approved Apple smart home devices. It is well integrated with other Apple devices and is very efficient in performing tasks. The sound quality and most importantly, voice recognition is class apart. It has excellent spatial awareness and unbelievable sound. The Apple Homepod is actually speaker first, smart home controller, second.
But the biggest disadvantage that Apple Homepod carries is its compatibility with only Apple devices or Homekit. It is great only for homes that use a lot of Apple products. There are not many third-party applications for music streaming or other actions with HomePod.
Sound quality and high-fidelity voice recognition are the strongest points of HomePod. It can stream Apple Music while "learning" your taste in music over time and remembers what your favorite music is like.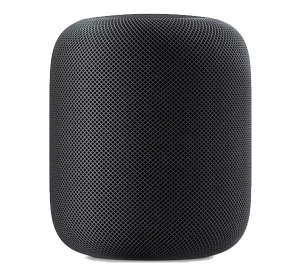 Pros
It's got the best acoustics. Homepod has enviable sound quality that is better than any other smart speaker in the market today. The music it plays sounds loud and clear with 360º surround sound. It is a great device for music lovers to own. The microphone can pick up voice commands even in low volumes without the user needing to command tasks loudly.
It does more than just play music. The HomePod controls all HomeKit enabled devices effortlessly and is well integrated with them. Its well-established voice assistant, Siri, can answer quite a few questions and can also carry out the tasks assigned.
The design is very stylish. The HomePod is tastefully designed and looks very elegant at home or on the office desk. It has striking looks that gels well with other home decor and devices.
Cons
It works only with Apple devices. In fact, you need to own an iPhone to be able to even set up the HomePod.
Siri is not as smart as Google Assistant and Alexa. The closed group nature of Apple's Siri has made it lag behind its counterparts. Siri integrated in HomePod cannot make calls or check the calendar or set two timers. There are no third-party integrations to enrich Siri with skills and capabilities so she can perform better.
HomePod is extremely pricey. If you are a regular iPhone user and value sound quality over any other feature, go for it! Priced at a whopping $349, it can burn a hole in your pocket without actually offering many features that Google Home or Amazon Echo do. The maintenance and repair is costlier too.
Let's look at how Google Home, Amazon Echo, and Apple HomePod fare when compared with each other.
Google Home

Amazon Echo
Apple HomePod

1. Smart home integration

Google Home offers the best smart home integration with a wide range of third-party integrations.
Built using the Zigbee protocol, offers equal advantage in smart home integration.
Not many third-party integrations but very well integrated with Apple devices.
2.

  

Microphone quality
Only two microphones but is still comparable to Amazon or Apple
As good as Apple HomePod but with seven microphones integrated into the Echo system.
Excellent voice recognition with an array of six microphones integrated.
3.

  

Sound quality
Google Home has better sound quality and bass.
Amazon Echo sound quality falls shorter when compared to its contemporaries  
HomePod has the best speaker quality with premium sound production
4.

   

Voice assistant
Google has a massive wealth of knowledge and information database which is why it can do a lot more when compared to Alexa
Alexa requires commands to be phrased in a particular manner to be understood. It comes second compared to Google Home
Owing to third-party restrictions, Apple's Siri is behind Google Assistant and Alexa when it comes to skills and other features
5.

  

Features
Owing to its great database, Google Home can understand questions better and give responses.
Amazon takes the lead in offering wider range of 'Skills' and features as compared to Google or Apple.
Apple doesn't do as well as Google or Amazon in this category as it avoids third-party integrations.
Google Home is trending in Australia in 2019
Google Home has received a headstart in the smart home market since 2017. Amazon Echo is too vying for attention neck-to-neck with Google Home. It is matching up to Google Home feature-by-feature and offers as many advantages as the former.
However, Google Home's local knowledge database is much stronger than Echo or HomePod and it gives relevant solutions to everyday queries. Google Home also is third-party enabled and integrates easily with many other smart home devices making it a popular choice. It is more natural to converse with and is easier to use.
Conclusion
Although all of the above are great products, Google Home makes a slightly better choice owing to the number of benefits it offers. For virtual assistance, it is the best choice as of now in Australia owing to its local knowledge database.
Google Home understands commands in natural language and has brilliant voice recognition capabilities. Its integration to Chromecast comes as a boon to smart home users adding to its great versatility. While it is short on Skills as compared to Amazon Echo, Google Home is trying to match up with its Actions and might soon take a lead. For most Android users with a variety of smart devices at home, Google Home is a great choice due to its versatility, good virtual assistance, compatibility with a wide range of smart devices and most significantly, affordability.  
---
Source:
https://voicebot.ai/wp-content/uploads/2019/03/smart_speaker_consumer_adoption_report_2019_australia.pdf